(Latest update: 2021-12-16: test tent opening hours update of quarantine rules wrt. Omicron variant)
Introduction
While Niedersachsen (Hannover is the capital city of Niedersachsen, Lower-Saxony) is doing better than the German average on virtually all covid metrics, a number of regulations have come into effect to hamper the spread of the infection.
This page summarizes the SARS-CoV-2 pandemic-related regulations and rules that apply at GWPAW 2021, and therefore covers regulations set by the city of Hannover, Hannover county, the federal state of Lower-Saxony (Niedersachsen), federal German government regulations, as well as rules set specifically for the conference venue. Please note that regulations will differ in other parts of Germany that you might visit during your travel from and to the conference venue. For simplicity, we only cover rules that apply to (adult) conference participants, if you are traveling with children, some special rules might apply that are not covered here. We also do not cover the rules for crossing borders into Germany or re-entering your country of residence (e.g. quarantine rules), as these rules can be very specific to your country of residence and your travel itinerary. Please make sure to plan your travel accordingly. Some of us have found https://klm.traveldoc.aero/ to be a useful tool to check entry and travel requirements.
Please note the disclaimer at the bottom of this page.

Requirements for in-person conference participation: Proof of vaccination OR Proof of recovery OR Proof of being unable to be vaccinated AND daily testing
To enter the conference venue and take part in the conference, you must be able to show proof that

you are vaccinated against SARS-CoV-2 with vaccines recognized in the EU, within a certain time span (see below for details)
or
you have recovered from Covid-19 within a certain time span (see below for details)
or
you cannot be vaccinated for certain reasons (see below for details).
Make sure that your vaccination documents meet the requirements or otherwise you will not be able to participate in-person. In combination with the covid-related documents you must also show proof of identity (e.g. passport / ID-card etc).
Additionally
All participants on site may take a free daily rapid antigen test. The conference management company is arranging for a dedicated testing facility set-up at the conference venue.
Note that many indoor venues (including the Christmas Market and many restaurants) in Hannover do currently require a negative antigen test result even for vaccinated people, not older than 24h (see the FAQ below for details and exceptions).
Proof of vaccination: detailed requirements
A comprehensive guide to accepted vaccine products (with their names as used in different countries), accepted languages for certificates and validity periods and other details is available in English at this site of the Paul Ehrlich Institute (external website). In addition, proof of having received an additional "booster" vaccination is useful in the state of Niedersachsen as you are then exempted from daily testing requirements.
Proof of recovery from covid-19 : detailed requirements
Proof of a previous infection with the SARS-CoV-2 coronavirus must be issued in written or digital form in German, English, French, Italian or Spanish, and the test must be based on laboratory diagnostics comprising a nucleic acid test (PCR, PoC-PCR or other nucleic acid amplification test methods) and performed no less than 28 days and no more than six months earlier. Note that if you recovered from a Covid-19 infection even after having received full vaccination ("breakthrough case"), you are exempted from daily testing requirements.
If you cannot be vaccinated: detailed requirements
Two reasons are accepted for being unable to be vaccinated: a medical counter-indication or because of participation in a clinical trial. You will have to provide a medical certificate as proof, we strongly recommend to have this certificate written in German, English, French, Italian or Spanish.

Note that participants who cannot be vaccinated for the aforementioned reasons are required to show a negative rapid antigen test result not older than 24 hours in place of proof of vaccination or recovery, to have access to the conference venue as well as most other public venues and businesses like hotels and restaurants.
Testing Area at the conference venue
A testing facility will be set up right next to the conference venue beginning on the day before the conference, see the map below for directions. The facility offers antigen tests which are also recognized in your hotel and other venues like cinemas, restaurants etc. where required (see FAQ below for details). The tests are valid for 24 hours. As test certificates are personalized, please don't forget to carry your passport or other photo-id card. Tests are free of charge.

Note that to attend the Banquet on Wednesday Dec. 15th, you will need a negative test (not older than 24h) in order to attend!

Opening hours are:
Monday: 4 pm – 6 pm
Tuesday: 6:30 am – 8 pm
Wednesday: 7 am – 7 pm
Thursday: 7 am – 7 pm
Friday: 7:30 am – 5 pm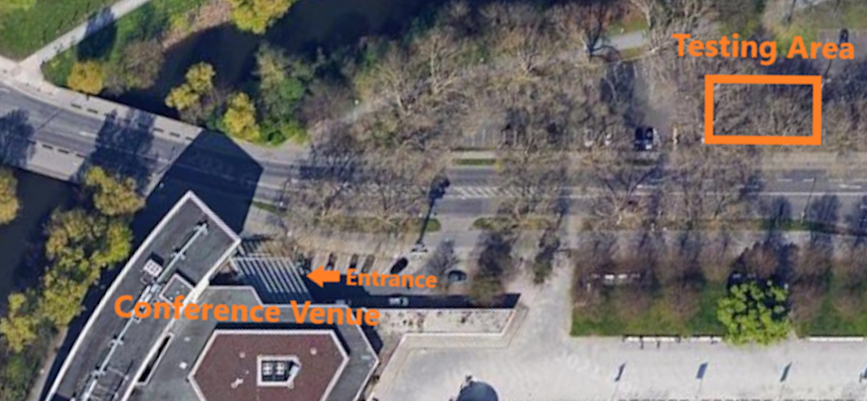 Frequently Asked Questions
In the following we try to answer some frequently asked questions concerning the pandemic related rules at and around the conference venue. Please read them carefully.
Do masks have to be worn during the conference?
Indoor events require FFP2 masks to be worn, masks may be removed for drinking and eating and while seated if appropriate distancing can be maintained. However, we advise participants to wear masks even when seated.
Will there be social distancing rules during the conference?
Seating at the conference will be arranged in a way to ensure a certain distancing between in-person participants. Therefore, we must ask participants not re-arrange the seats.
Other hygiene measures (disinfectant dispensers, appropriate room ventilation, etc) will be put in place to further guarantee everyone's safety.
Where are masks mandatory in Hannover?
Face masks have to be worn by everyone (including vaccinated and recovered persons) in the Hannover region in indoor public places, e.g. on public transport, in shops, in bars, restaurants, discos, clubs — unless you're eating, of course.
In Christmas markets, in the city center, masks are also mandatory. The affected areas will be marked by signs.
Where face masks are required, almost always FFP2 (or better) masks have to be used (comparable to KN95, N95 or P2 masks in other parts of the word). Masks with valves that bypass the filter when exhaling are not allowed.
Because of the higher density of unvaccinated and untested people in retail shops and supermarkets, you might want to wear FFP2 or better masks in those places even though technically some of them currently require only surgical masks.
What are the rules for public places, shops, restaurants etc in Hannover?
If you meet the criteria for in-person conference participation, you are currently also allowed to enter shops and restaurants in Hannover city and in the Hannover Region. You should carry with you the respective documentation as well as your ID-card or passport.
Again: please observe signs (some of the German vocabulary is explained below). Some places might require a recent test certificate even for vaccinated/recovered persons (but with an exemption for people with "booster" shots or recovered "breakthrough infections" (recovery after complete vaccination)).
How does simplified access control with wristbands work?
To facilitate verification of compliance to rules, some places like the Christmas Market and some shopping malls provide color coded wrist-bands (German: "Bändchen") after an initial check of your documents, usually valid for one day. You will then be asked to present this wristband instead of your full set of documents.
Is it easy to get a covid test ?
It is very easy to get both rapid tests and PCR tests in Hannover. Antigen testing (valid for 24 hours) is offered free of charge independent of nationality or place of residence. PCR tests (valid for 48 hours) are offered commercially, some testing centers offer PCR tests that take less than one hour to produce a result, e.g. the one set up in Hannover airport (see below).
The most convenient option is the dedicated testing center set up across the street right next to the conference venue (see above for opening hours and directions). If you need a new test to check into your hotel and cannot make it to this testing center in time, there is also a testing center at Hannover airport that operates 24/7, but it requires booking in advance . To get a free antigen test there, you should choose the "Bürgertest Flughafen Hannover" option on their website for booking, not the commercial option. https://flughafen-hannover.ecocare.center/en/ (external website).
Other "Bürgertest" testing centers are located in various places in Hannover: https://www.hannover.de/Media/01-DATA-Neu/Karten/Redaktion-Hannover.de/Corona-Testzentren (external website), e.g. in case you want to stay after the conference.
What will happen if I should test positive for SARS-CoV-2, or show symptoms of COVID-19, during my stay in Hannover?
In this case there is a detailed public-health procedure that must be followed. Note that this procedure applies to vaccinated and recovered persons as well:

You need to self-isolate immediately and avoid close contacts with others as much as possible
Consult a doctor (your hotel will be able to help you find one). After an interview this will usually result in getting a PCR test.
You need to provide the local health department with a list of "close contacts" within the last two days. These contact persons will then be notified, but they will not have to quarantine if they are vaccinated or have recovered from COVID-19 (unless they show symptoms or you test positive for the new Omicron variant).
If the PCR test is positive, you will have to quarantine for at least 14 days. The local health department ("Gesundheitsamt") can set specific rules based on each case. If the PCR test is negative, no further measures need to be taken and you can resume in-person participation in the conference.
As with every travel abroad, we recommend that you check your travel health insurance for adequate coverage in case you should need medical assistance (covid and not covid!). The local organizers will help you in any way that they can. The embassy and consulates of your country should also be able to assist you.
What happens if I am notified that someone I came into close contact with during my stay tests positive for Covid-19?
If you are vaccinated or recovered, you will not have to quarantine (exception see below), unless you show symptoms. It is recommended though that you still perform rapid antigen tests in the following days.
Update: However, if you came into close contact with a person who tested positive for the new Omicron variant, you will have to quarantine for 10 days even after full vaccination or recovery. (Close contact is defined as: being within under 1.5m of the person for more than 10 minutes without adequate face mask protection, or talking with the person in question without face mask protection and within less than 1.5m distance, irrespective of duration, or a longer than 10 minutes stay in a poorly ventilated room with the person in question).
The 10 day quarantine period can however be ended after 5 days with a negative PCR test or after 7 days with a negative antigen test.
Is there a contact tracing app available in Germany?
Yes, the "Luca App" (available in app stores) is used by many businesses like restaurants and bars to register visitors to a location with a QR code and then notify them later in case a Covid-19 case was discovered that could have been in contact with other visitors. Another app that is used in Germany to warn people in case they came close to a person that later turned out to be infected is the "Corona Warn-App".
When businesses register their visitors via the "Luca App", you can in most cases also check into the location via alternatively filling out a paper form.
What are Covid-19 related German words that I might encounter during my stay?
You will frequently be confronted with some German expressions and abbreviations that you will not find explained in any pre-pandemic dictionary or travel guide:
"2G", "3G", "2G-Plus" :
These abbreviations represent different levels of access restrictions for public places and businesses like hotels, bars, shops restaurants etc. In all cases, specific documentation will have to be produced on demand as proof of your status:


"2G" = "Geimpft oder Genesen" = Entry allowed for vaccinated or recovered persons, this almost always also includes persons that cannot be vaccinated (see above). If you meet the conditions for in-person participation in the conference, you can also enter places that are marked as having a "2G" rule.

"3G" = "Geimpft oder genesen oder getestet" : you have to be vaccinated or recovered or tested negative to have access. "Test" here usually refer to a rapid antigen test which is either performed at the point of contact or (more frequently) is requiring a test certificate from a supervised rapid test within the last 24 hours (see "Testzentrum" below). Needless to say, if you are compliant with "2G" you already pass the less strict "3G" rules without having to produce a test result.

"2G-Plus" = "Geimpft oder Genesen plus Test" : you have to show a recent negative test result in addition to proof of vaccination or recovery (or being unable to be vaccinated). However, if you alreadyhave had a "booster" shot, you are exempt from the testing requirement.


"Corona-Schnelltest"
"Schnelltest" refers to rapid antigen testing kits that work with a nasal swab sampling and lateral flow test strips and give a test result within ca 15 minutes. These kits are available both for self-testing in drugstores and pharmacies, and as a supervised service at a "Testzentrum" where the test result will then be certified. A "Schnelltest" is different from the more reliable PCR test.

"Testzentrum":
A place to get tested. Most "Testzentrums" offer "Schnelltests" (see above) but not PCR tests. If you need a PCR test (e.g. after showing symptoms or after a positive "Schnelltest"), it is however very simple to book one at a nearby location.

"Bürgertest":
Citizen testing , a service that offers free-of-charge rapid antigen testing to everyone in Germany and offered by public testing centers

"Bändchen"
In the context of Corona regulations, this refers to color coded wristbands that are used in some places to avoid redundant checking of your documents, e.g. on the Christmas Market.

"Gesundheitsamt":
The local public health authority / health department.

"AHA" "AHA-L" etc
These are mnemonics for basic hygiene rules that should be followed during the pandemic, and can be translated to "Distancing + hygiene/washing hands + wearing masks + ventilating rooms frequently"

"RKI"
The Robert-Koch-Institute is the official scientific advisory body for the German federal government in all public health matters, very roughly comparable to the CDC in the US.

Corona – Inzidenz
Note that the incidence numbers reported in Germany are usually calculated as the cumulative number of new cases (positive PCR tests) over a 7 day period per 100.000 inhabitants (other countries use different conventions)
Could the rules change between now and the end of the conference?
Yes: as the vast majority of the rules described on this page are mandated by statutes on different levels of the federal system in Germany, and some rules are automatically tied to certain public health metrics, changes can occur. We will try our best to keep this page up-to-date.
Disclaimer
The information on this page includes condensed and simplified summaries of sometimes very complex statutes from different levels of the federal system in Germany, some of which keep changing on short notice. We try our best to translate the information to English, and to keep it up to date, we cannot guarantee, in a strict legal sense, the completeness and accuracy of every detail of the information given here.